Portable Hand Controls for Cars in Johnstown, CO
There are many different types of portable hand controls for disabled drivers out there, but few offer the convenience, utility and practicality of the Peddle Master! Designed and manufactured right here in Johnstown, CO, you won't find a simpler, more effective system for assisted driving.
How it Works
Using Peddle Master is simple, and the system can be installed and uninstalled in seconds. Once the portable hand controls for driving are securely affixed to the pedals, you'll have no trouble driving. Use one hand for steering, while the other controls the Peddle Master in the same way your feet would actuate the pedals. It's an uncomplicated system that you'll quickly master. Here's how it works: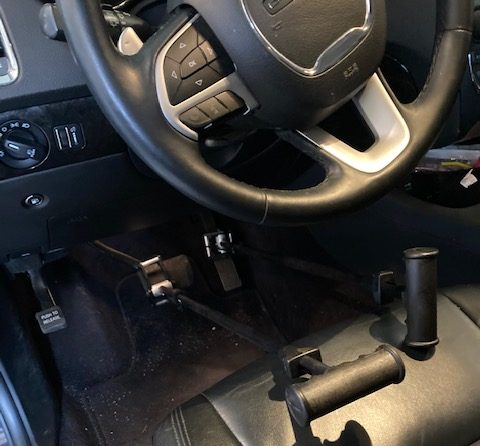 Tested and Approved by Experts
Our portable hand controls for cars have been widely tested and approved by both transit authorities and assistive technology evaluation standards. The University of Virginia Auto Safety Laboratory tested the Peddle Master for the Justice Department in Washington D.C., and the Peddle Master has been approved for use by car dealerships for test driving purposes. Additionally, a study by Louisiana Tech University named Peddle Master the most user-friendly and easiest-to-adapt-to hand control device on the market.
PEDDLE MASTER ADVANTAGES
If you have a disability that prevents you from driving, you know how precious the freedom to drive can be. Here's why Peddle Master, Inc. is the most popular and trusted portable hand controls for disabled drivers in Johnstown and Loveland, CO.
Our portable hand controls for driving are more affordable than a permanent hand control system.
Our convenient system works in almost any automatic transmission vehicle.
The brake has four adjustments; the accelerator has three adjustments.
Horizontal and vertical hand controls distinguish brake and accelerator pedals.
You can quickly and easily transfer Peddle Master controls to another vehicle.
No new driving style to learn or adapt to—just use your hands instead of your feet!
Over 10,000 Peddle Master controls have been sold worldwide.
Made of all non-corrosive material (aluminum, stainless steel, poly carbon plastic, etc.).
Designed in Johnstown, CO and made in the United States.
Backed by a three-year parts warranty and a 15-day money back guarantee.